3. Meiji Shrine (Meiji Jingu)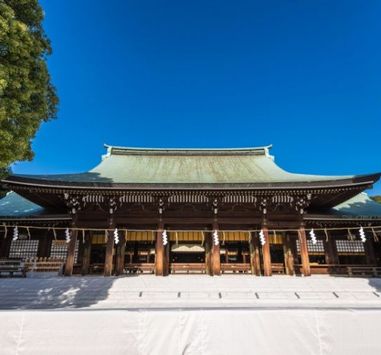 Meiji Shrine was established in 1920, to dedicate to Emperor Meiji and Empress Shoken who took the initiative to make a foundation of modernized Japan and loved by broad public.
There are hidden power spots in the precinct of Meiji Shrine venerated to have highest number of visiting people as their first shrine visit of the year. >>>Meiji Shrine

Despite of the location in the middle of the megacity, Tokyo, this shrine is surrounded with vast land of the forest.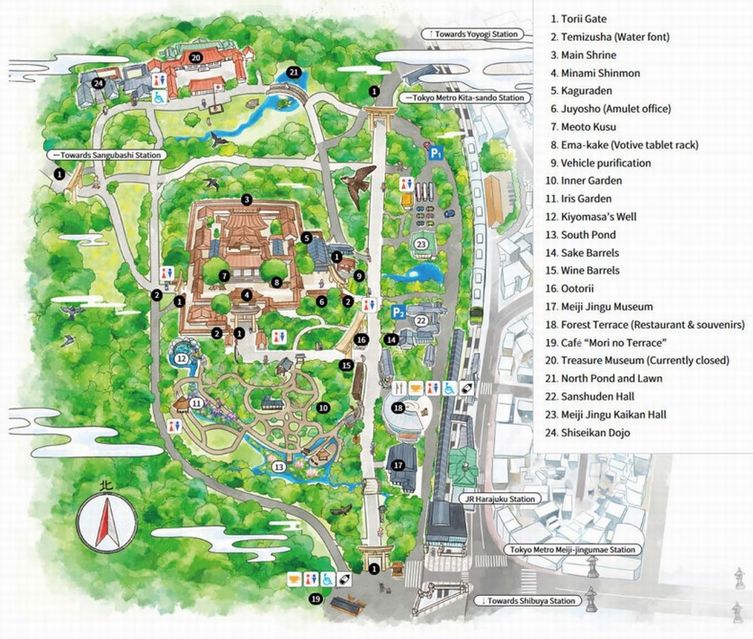 After you go through the big Torii Gate from Harajuku, the first Power spot is the corner on the approach to Main Shrine where you could hardly recognize the bending at 88 degree specifically designed rather than 90 degree, owing to the belief of lucky number 8 shape in Kanji (八 is spreading the bottom).

There is a pair of Divine Trees as called Meoto-Kusu representing good relations of wife and husband.
Precinct Map of Meiji Shrine Access: From JR Harajuku station 2min. by walking and more ,,,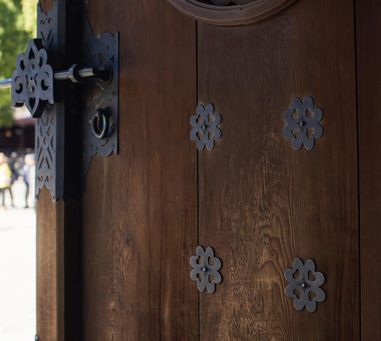 On the doors of Minami (South) Shin-mon (Sacred-gate) following to the Main Shrine, you could notice the clasp figurate of 4 heart shapes. This mark is called "I-no-me" or eye of wild boar, design from the boar's eye As well known as the boar's dashing forward so swiftly to escape from wild fire, from this belief this symbol is protection against Fire.
Other mysterious power designed
On the Winter Solstice, the morning sun beam irradiat18es the street of Omote-sando forwarding to align with Meiji Shrine. This sort of celestial phenomena have been seen mostly at Archaeological or Astronomical ruins. Winter solstice is related to the concept for rebirth.
One of the most famous phenomena irradiating on the Winter solstice morning is at New Grange in Ireland aligned into the chamber.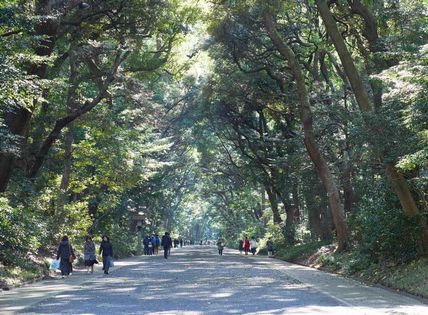 Meiji Shrine is located in Shibuya Ward, central area of Tokyo, however you could feel the great nature as the deep forest.
The sacred forest surrounding the Main Shrine used to be a wild land where more than two hundred diverse trees were planted by 110,000 or more volunteers of young people.
This manmade forest was based on the "Sustainability" aspiring eternal forest with no human intervention, nothing is added or taken away, but still the plants and trees sustain by themselves more over 100 years passed now. Only thing is to rake fallen leaves to return to forest which could count on the fallen leaves for nutrition.
---
4. Kiyomasa's Well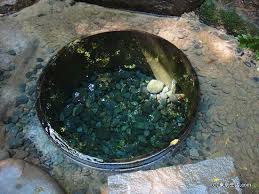 Kiyomasa's Well was constructed by KATO Kiyomasa traditionally perceived but not confirmed the certainty. Ensured is this area was KATO family's territory and Tadahiro, Kiyomasa's son lived. Kiyomasa is well known feudal warlord and mastery at fortification, so skillful as civil engineer that he was titled as "Lord of construction". Judging from these facts, possibility of the legend remains correctly.
This well is unique and ingenious way of sinking method and pure water gushing out in a steady flow all year round. The peculiar of this well must be Yoko-ido by horizontally digging method, therefore Kiyomasa could be the engineer who produced this well. Recently this well's architecture was verified as Yoko-ido. (Normally well is digging vertically)
---
Premise of Power Spot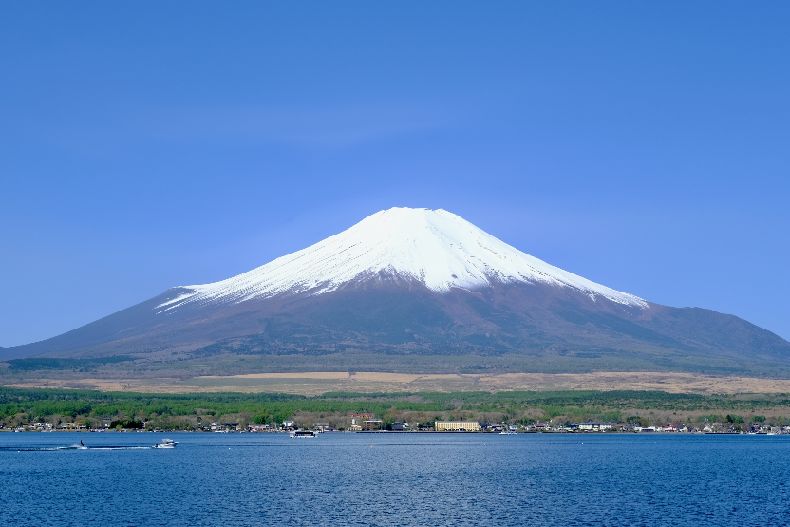 The Kiyomasa's Well is realized on the Dragon Stream ( Energy stream of under ground ) from Mt. Fuji to Imperial Palace and at the hole of out gushing energy called Dragon Hole, people believe the well as power spot for getting magic power of Feng Shui, became so famous that people visit to take a photo of the clear water in the well and set it as phone's lock screen and background.
---
5. Yushima Shrine (or Yushima Tenjin)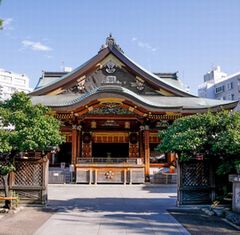 This Shrine or Tenjin is dedicated to Sugawara no Michizane, one of the most powerful vengeful spirit, who was excellent scholar known as poet specifically in Kan-shi.

Consequence of confliction with authorities in Imperial court, Michizane was exiled and confined in Dazaifu, Kyushu. He died in despair shortly, just 2 years after exile.
After the unfortunate end of Michizane, whose rival Fujiwara was granted authority but in spite of his success he suddenly died at age of 39. Additionally, disease and disaster frequently attacked, people feel these phenomena are owing to avenge of Michizane, the lightning had frequently attack the court with numerous casualties, then died Godaigo- Emperor who did the exile of Michizane, following crown princes also died.
---
Deification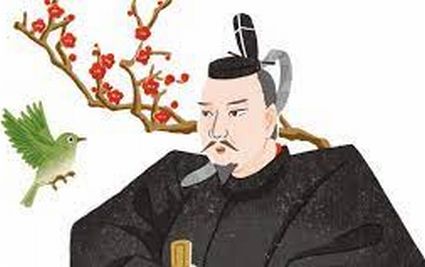 Michizane has been revered as "Raijin"(Thunder God or Lightning God) derived from his vengeful spirit with thunders and named as "Tenjin-sama".
Before his death, Michizane was great scholar in life having an exceptional talent in poetry both for Chinese Poetry (Kan-shi) and Japanese Waka Poetry . As time goes on, he has been deified as Tutelary God of Academics and Scholarship rather than vengeful spirit.
---
Legend of Flying Plum
The plum tree was in the garden of Michizane's residence in Kyoto. When it's master Michizane exiles to Dazaifu in Kyushu, the Plum Tree flew to the confined place as known as Tobi-Ume (Frying Plum)
The plum tree was in the garden of Michizane's residence in Kyoto. When it's master Michizane exiles to Dazaifu in Kyushu, the Plum Tree flew to the confined place as known as Tobi-Ume (Frying Plum)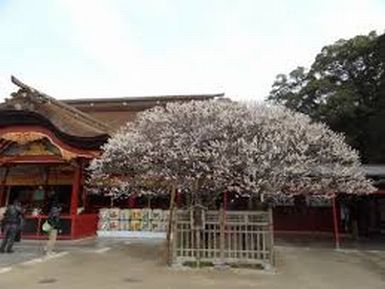 | | |
| --- | --- |
| Kochi fukaba  | When the East wind blows |
| Nioi okoseyo | spread your scent |
| Ume no hana  | Despite you loose your master |
| | |
| Aruji nashi tote | You plum blossom ! |
| Haru na wasure so  | Never forget the spring |